At the library, serving teens in our community means helping them discover impactful works, develop real world skills, and create their own unique voices. Our Teen Room offers a completely remodeled space to reach all of the goals we share with teens.
In our Teen Tomorrow Room, you'll find lots of comfortable seating and workspaces. You can take a look at the rotating student art displays or try your hand at some magnetic poetry. Our expansive Young Adult collection boasts continuously updated and award winning fiction, nonfiction, and graphic novels. We also have a curated magazine selection just for teens.
We also engage in weekly and monthly teen programming! Chat about all things anime in our monthly Anime Club, and engage on social media. We also do special events and programming throughout the year.
Upcoming Programs:
HOLIDAY MOVIE NIGHT. Zelie Library and its Teen Leadership Council invite you to come and enjoy a holiday classic, The Nightmare Before Christmas. This program was suggested by a few bright teens in our community who thought a movie night in time for the holidays would be a great time. So please come and join us for a fun but laid back movie night complete with Hot Cocoa and other warm beverages. Open to ages 13 and up, this program will be held at the library from 6-8pm.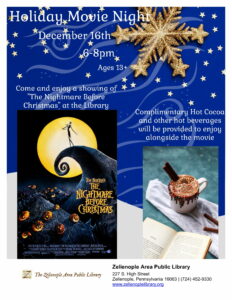 Previous Programs:
ADVENTURE NIGHT. Adventure Night invites anyone ages 13+ who is a beginner, a seasoned adventurer or anywhere in between to come take part in a One Night DND 5e adventure.  Dungeons and Dragons is a game where players are active in a live story that unfolds as they explore. It encourages team building, communication, and creativity as players choose how to bring their characters to life. The hope of Adventure Night is to gather teens so that they can meet others in their community and work together to make it through fantasy worlds, using nothing more than their own creative thoughts and a few dice. 
We have currently run 3 Adventure nights and will certainly be planning a 4th. Adventure night is always open to those new to Dungeons and Dragons and those familiar but looking for a night of fun.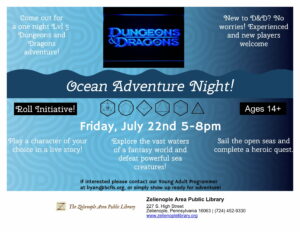 SIX NIGHTS OF HALLOWEEN. We invite the Young Adult's of our community to enjoy the spirit of Halloween over the course of 6 nights of stories and movies. 
Throughout October there will be 3 nights of spooky Stories and readings from classic thriller novels at the Library, paired with 3 nights of classic Halloween/thriller movies hosted at the Zelienople Community Park Amphitheater*. Each week pairs the stories and the movies together to maximize enjoyment through the audio and visual entertainment. 
Feel free to attend any or all of the 6 Nights, as each night can be enjoyed on its own or as a part of the series.
Each story night will be held at the Library on Tuesday evenings from 6-7pm and two of the movie Nights will be the Friday of the same week at the Zelienople Community Park Amphitheater. Our last pairing of story and movie will all be at the Library. 
Friends and favorite fall snacks are welcome to accompany all who attend to enhance the experience.
Age for this program series will be 13 years and older. 
Take a look down below at the program flyer for details on the story and movie selections and dates.
A PIRATE'S NIGHT FOR ME. Pirates are a mainstay in today's pop culture, but what were they really like? With A Pirate's Night For Me, the intrigue meets the exciting with a mix of researched information and a live sword fighting demonstration. 
This STEAM program is meant to make learning history enjoyable and approachable, all the while giving out factual information. 
Topics include but are not limited to: general life for pirates and sailors, the making of a pirate and what caused historical figures to choose that life, pirate laws and code, ship combat, and of course even the infamous Blackbeard. 
For more resources, take a look at our favorites in the list below!
Research:
NICHE ACADEMY!  Niche Academy (via the link below) provides online tutorials covering the various online eResources that are available to you 24/7 through the Zelienople Area Public Library website.  Currently there are 38 eResource Databases available via the Zelie Library Website (to see a list, go to https://zelienoplelibrary.org/a-to-z-eresources/).  These eResource databases include downloadable eBook databases, eAudiobook databases, eMagazine and ePeriodical databases, eNewspaper databases.  The content of each eResource is tailored toward broad age groups–adults, teens and children.   Examples of some of the available eResources for children include Bookflix, Trueflix and Tumblebook Library.  For Older students and Adults– Academic OneFile, Gale Databases, Gale eBooks and Greenfile Environmental Database.  You can easily research from home a product with online Consumer Reports.   There are also entertainment resources including Flipster for online magazines, Libby for eBooks and eAudios, and Hoopla for streaming film, television, music, audio and eBooks.   Learn more about each of the resources via a Niche Academy Tutorial–one click will get you started!
Getting involved:
TEEN LEADERSHIP COUNCIL (TLC). The Teen Leadership Council is a new and still growing program where Teens get to be involved in their local library and have their voices heard. The program can be as simple as Teen's helping decide what material is added to the Library's collection, be it books, graphic novels, music, movies, services, etc. It can also be much more, we encourage our teens to come up with programs and inform Library staff of what interests them and their peers so that our services can be better tailored to them. Participation in the TLC can be used on resumes for volunteer hours or other alternatives depending on the needs and actions of the participants. 
Requirements for joining the TLC are simple: participants should be in the age range of 13-18 years old, be a resident of butler county/use the Zelienople Area Public Library as their home library, and have a good attitude towards working with other teens. 
As this program is still growing and finding its way, meetings are currently irregular and based on the participants' schedules. Meetings are typically held once a month at the library on Tuesday evenings. 
Interested teens or parents interested for their teens may contact our YA programmer via email, lryan@bcfls.org, or by calling the library and requesting to speak with the YA programmer. 
Reading:
Printz Award
winners and nominees for literary excellence in Young Adult literature
YALSA picks
– the Young Adult Library Services Association
Gaming:
Steam
Discord
Twitch
Publishing:
YARN
– Young Adult Review Network
Helpful Websites:
Tutor.com at
www.tutor.com/newcld/
–  Get help in math, English and a variety of other subjects.  Submit a problem or paper for review, get a one-on-one tutoring session, prep for the SAT and ACT and much more.  Grab your library card and find some help.  A service of the New Castle District Library Center.   Serving Armstrong, Butler, Lawrence and Mercer counties.