---
Children's Programs
Join us each Monday at 4:30pm to explore stories together- in every way except for traditional print books! Struggling readers, readers with a disability, and those who dislike reading alone will be right at home in this group. We will explore how to find materials in the library, how to create a reading environment that works for each person, and different reading tools and types of "books" available through the library. No registration needed, all ability levels are welcome. For more information, contact the Children's Librarian at 724-452-9330 or alyssa.smith@bcfls.org
Special Events:  
Summer Reading 2022! Starts June 21st and ends August 13th. Sign up in person at the library or online. Be sure to stop by the library if you signed up online to get your challenge sheet!  

REGISTER HERE
Children ages birth-12 are welcome to participate! There are four different brackets to choose from, each with its own level of difficulty. 
Starfish: designed for children ages 0-3 for adults to read to them
Seahorse: designed for preschool-grade 1 where independent reading starts 
Sea Turtle: designed for grades 2-4 for independent reading
Shark: designed for grades 4-6 for independent reading and writing
Each age group will receive a bingo-card style challenge sheet for each month of the summer. Complete a row of challenges to earn the prize for that month! Prizes this summer include: books, squirt guns, sticky hand toys, t-shirts, and more!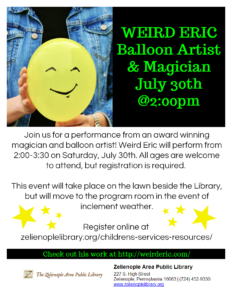 Register for Weird Eric: Balloon Artist & Magician!
Register for PPG Aquarium Zoomobile
Register here for Back-School Bonanza (Ages 3-5)
Storytime:

Storytimes resume for the summer Tuesday, June 21st! No registration needed.
Wee Ones- Tuesdays @ 10:30 am 
Storytime for children birth-18 months old
Toddler Tales- Wednesdays @ 10:30 am
Storytime for children 18 months-3 years old
Preschool Pals- Thursdays @ 10:30 am 
Storytime for children 3-5 years old
Block Party! 

No registration needed, just drop-in and enjoy some open play time with the library's block collection for kids ages birth-2. 
School-Age Programs:

Wacky Wednesday- Wednesdays @ 4:30 pm
STEAM programs for kids in grades K-6, no registration needed
Upcoming programs:
June 22- Ooblek!
June 29- Big Bubbles (program will be outdoors, weather permitting)
July 6- Under the Sea Snow Globes
July 13- Foam Explosion Experiment
July 20- Water Sample Microscope Experiment
July 27- Natural Dye Tie-Dying 
August 3- Recycling Science
August 10- Shake-to-make Ice Cream
Homeschool Hub -2nd & 4th Tuesdays @2:00pm
Designed for 1st-5th graders
Upcoming sessions:
June 28, July 12, July 26, August 9, August 23
Lego Club

No registration needed. This drop-in program will feature a new building challenge each session. Ages 5+
Children's Resources

Kid-friendly Library Catalog
Search our Butler County Federated Library System Catalog in a highly visual format.
Browse thousands of eBooks, audiobooks, movies, music, and more free and available for instant streaming with your library card.

---

Homework help for all age levels. Connect with tutors for academic subjects, drop papers off for review, experience guided lessons, practice for test prep and more! Check out this YouTube video from our friends at Cranberry Public Library to learn more.
A wide collection of games, videos, and books about kid-friendly topics.

---

A social studies and science ebook library that includes interactive audio clips, videos, and more features to engage your child.
Animated fiction books are paired with nonfiction books on the same topic.
---
Tumble includes a database of interactive books, math ebooks, and an audiobook library for kids in grades K-6.

Websites for parents to locate additional information, games and activities, and support.

Tumble Books
Username: tumble735
Password: books

Tumble Math
Username: tumble2020
Password: A3b5c6

Audio Book Cloud
Username: tumble2020
Password: A3b5c6
---
Services for Children & Families



1000 Books Before Kindergarten! 
Register here to participate in 1,000 Books Before Kindergarten through Zelienople Area Public Library! This program is free and open to any child whose home library is ZAPL and has not yet started kindergarten. 

When you register, be sure to stop by the Library to grab a folder for your tracking sheets or download the free 1000 Books Before Kindergarten app to track your progress. You also get a free book, just for signing up! 

We are so excited to share this journey to 1,000 books with you and hope that it will encourage your children to become independent readers when they do head off to kindergarten. 

For more details on this nation-wide program, explore their website: https://1000booksbeforekindergarten.org/
---
Not everyone has the time or inclination to pore over the library catalog or scour the internet for book recommendations. So we're trying out a new service—Book Bundles for children. Fill out our form to give us some pertinent information, and our staff will choose a selection for you to check out. We'll have them ready for curbside pickup in 1-3 business days.